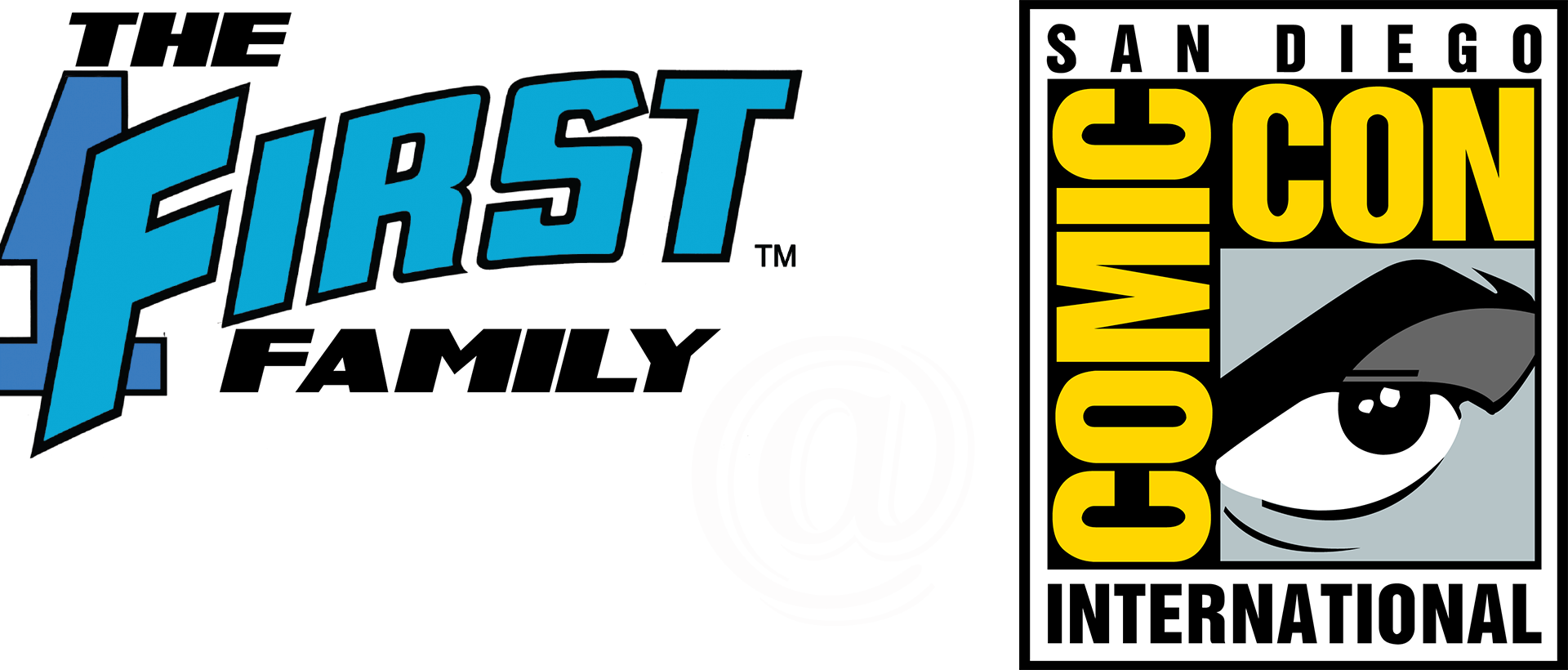 It's that time again for the first time in a long time!  You know what we're getting at… it's 1First Comics at San Diego Comic-Con!  It's been years (three, to be precise) since we've seen all of you and we have a lot of brand-new things to show off!  New comics, new creators, and new products!
"Why?" you may ask. Well, the truth is 1First Comics is about to turn forty (that's right, the big four-oh) and we could muddle along like your old Uncle Hubert who bought a Ferrari, got hair implants, and a girlfriend half your age, but midlife crisis-ing is for the birds. We decided early on that instead of doing an Uncle Hubert, we'd rather be like Mick Jagger rocking out in his seventies because while fashion is temporary, cool is forever.
And what could be cooler than doing what we love and sharing it with all of you? That's why this year we will be offering:
METAL COVER VARIANTS! Metal cover variants of the number-one issues of DELETE, LOVE TOWN, WITCHFINDER GENERAL, RRH, BADGER, MALEFIC, ZEN: HARD BOUNTY, INSPECTOR OH, SERVING SUPES, WHITE, and BLACK FLAME! Available as both a numbered limited edition (limited to twenty copies) and an unnumbered artist's proof edition (limited to ten), these metal cover variants are a fun addition to any fan's collection!
ACTION FIGURES! From the fine folks at Fresh Monkey Fiction, BADGER and E-MAN are being offered as limited-edition action figures! Better still, the 1First Comic variants come with a variant cardback featuring different art that is available only through 1First! In addition to that, we will also have a limited number of autographed action figures signed by Mike Baron (Badger) and Joe Staton (E-MAN)!
KEN F. LEVIN! The executive producer of the hit Amazon Prime series THE BOYS, publisher KEN F. LEVIN will be in attendance! We're not exaggerating Ken's credentials when we say he is a comics, movie, and television industry insider. Ken has produced movies and television shows in addition to publishing and editing comics for literally decades! And as if that weren't enough, the man is a Primetime Emmy nominee to boot!
DOC WYATT!!! Chris "Doc" Wyatt, co-creator of ALIEN BONES and WITCHFINDER GENERAL as well as producer of the feature film NAPOLEON DYNAMITE and the television cartoon shows NINJAGO and TRANSFORMERS: BOTBOTS will be in attendance Saturday ten to noon signing copies of his book and meeting his fans!
JARED SAMS!!! Join us in welcoming 1First Comics' latest creator to the fold! Jared Sams, who works in development for NBC/Universal, also writes some darned fine comic books and we're pleased to be the first to publish his space magnum opus, SPACE NEGRO: THE LAST NEGRO. A raw, satirical look at race and society as played out through the adventures of Supernova Watkins, the last black man in the universe a million years in the future, this book has to be read to be believed. With sci-fi on top and insight that's over the top, it's safe to say that Jared Sams' SPACE NEGRO combines the humor and insight of Richard Pryor and George Carlin with the outer space vibes of Jack Kirby, Pierre Christin, and Moebius.
THE YUAN TWINS!!! Yes, that's us, but we do have a new book out and we would be remiss in not sharing it with all of you! LOVE TOWN SPECIAL #1 is a stand-alone one-shot that delves into the past of Love Town's toughest, most dangerous cop, Captain Hiram "Subs" Moore as he and his squad attempt to bring in an out-of-town killer and run into something far more dangerous: themselves.
ORLANDO HARDING, creator of 1First Comics' sold-out hit RRH, will be there premiering his latest graphic novel extravaganza, NIGHT STALKER. When Hell's worst baddies escape, you send someone even worse to catch them! So stop on by and grab yourself a copy before they sell out like his previous comics!
THE FILLBACH BROTHERS, creators of CADAVER DOGS OF WINTER, DOG SOLDIERS, and ILLUMINATI TRANSPORT, will be in attendance not only meeting and greeting fans, but also giving their fans previews of their latest project! It's all very hush-hush, but take our word for it – it's really frickin' awesome!!!
STEVE STERN!!! Back for more, this 1First Comics stalwart and co-creator of ZEN: INTERGALACTIC NINJA, is also coming out with more! He will be signing books, including his newest Zen offering: ZENISMS, THE WIT AND WITTICISMS OF ZEN: BOUNTY HUNTER. Not only will he have the regular edition of this book, he will also have a limited number of the DotCom Comics version with a special Paul Pelletier cover! And as If that weren't enough, get this: Steve has a special item in the works that we are not allowed to tell you about – only those who visit him at Booth #2001 will be given the low down on what super-secret project Steve is working on as we speak!
DAN COTE!! The other co-creator of ZEN: INTERGALACTIC NINJA and founder of EYE CANDY UNIVERSE, will be in attendance as well! Come on by and check out what he's been up to!
BOARD GAMES!!!! That's right! 1First Comics now has board games! And first out of the gate is THE BOYS: THIS IS GOING TO HURT! The break out success of Origins 2022, THE BOYS: THIS IS GOING TO HURT is an action-packed, intrigue-filled extravaganza you will not want to miss! Stop on by and try it out! 1First Games co-developer and CFO JOSH STILTS will be in attendance to host demo games and answer questions! In addition to all that, we will have metal cover variants of THE BOYS: DEAR BECKY #8 available, which features a Darrick Robertson variant cover of The Boys playing The Boys: This is Going to Hurt. It doesn't get more meta or metal than that!
So please find 1First Comics at San Diego Comic-Con and stop on by to say hello!  You'll be glad you did!
Sincerely,
The 1First Family
1First Comics at San Diego Comic-Con